Central Utah Ballet is a new ballet academy in Lehi, Utah, run by Jennie Creer-King. Jennie brings with her decades of experience in the ballet lesson industry. Jennie has extensive experience in the professional ballet industry. She has also owned and operated a successful ballet academy, has taught award-winning ballet lessons for years, and helped grow the Barbara Barrington-Jones Ballet West Academy from 47 students to over 500.
Although her experience is extensive, it's Jennie's teaching pedagogy that sets her apart from other ballet studios in the area. Each class has a strong classical ballet foundation and is designed specifically to increase the skills of each student while ensuring they have a positive, engaging experience.
Why Choose Central Utah Ballet for Ballet Lessons?
While Central Utah Ballet is a brand-new ballet studio in Lehi, the knowledge and experience of the instructors and director are unrivaled. Here are 7 reasons to choose Central Utah Ballet:
1. Strong Ballet Foundation
Central Utah Ballet's primary focus in their ballet lessons is to offer a strong, classically based ballet foundation. While many ballet studios will put their youngest, least-experienced teachers in charge of toddler ballet classesor children's ballet lessons, Central Utah Ballet does the opposite.
We know that those young years not only set the tone for how your child will experience ballet, but also build your child's foundation for the art. We provide age-appropriate, engaging ballet lessons taught by an extremely experienced teacher. This ensures your child has a positive first experience with ballet and that they won't have to re-learn ballet techniques as their skills progress.
2. Award-Winning Owner & Director
One of the main reasons students choose ballet lessons at Central Utah Ballet is our incredible owner and director, Jennie Creer-King. Jennie has been well-known around the Utah ballet community for decades. Not only does she have extensive professional ballet experience, but she has also won multiple awards for her teaching, ballet schools, choreography, performing groups, and more.
3. Highly Experienced Faculty
At Central Utah ballet, each faculty member was handpicked for his or her experience not only as a dancer but as an instructor. Unlike many ballet studios that will hire individuals who may be passionate about dance but have little or no teaching experience, Central Utah Ballet's faculty is renowned across the country (and some, worldwide), for their exceptional skills, knowledge, and teaching ability.
Our staff is highly trained with substantial professional dance careers, degrees in higher education, and significant teaching experience with most specializing in pedagogy or choreography.
4. Brand New Facility
You and your children will love walking through the doors of Central Utah Ballet. The studio is brand new, built out to the specifications set by Jennie Creer-King and her decades of experience dancing and running dance studios. You'll experience a bright and well-lit facility with brand new dance floors, high ceilings, brand new restrooms, massive sparkling mirrors, large windows, and plenty of room for parent observation.
Our grand opening is August 29, 2020, and includes a tour of this brand-new facility. This event is open to the public, and we would love for you to join us! Learn more on our Facebook page: https://www.facebook.com/events/545851589371588/
5. Age-Appropriate Ballet Lessons
It can be difficult for some ballet instructors to find the right balance between challenging a student and ensuring they have a positive, engaging experience. Because of the extensive experience Jennie Creer-King and our amazing faculty bring to Central Utah Ballet, you can feel confident that your child is receiving the best ballet instruction for their age. Each of our classes is age-appropriate, taking into consideration not only the physical capabilities of the age group, but the emotional and mental capabilities as well.
6. Performance Opportunities
Whether your child simply loves performing or is working to build their dance resume, Central Utah Ballet has the right opportunities for them. We have multiple performance opportunities each year. We also support our students interested in competition or audition opportunities.
7. Adult Classes
For those adults looking to continue developing their skills and stay in practice, Central Utah Ballet offers adult ballet classes. These classes are technique-based with opportunities for beginners as well as intermediate students. Would you like a more personalized class? Central Utah Ballet offers private adult classes as well.
Learn More
Would you like to learn more about Central Utah Ballet? Explore our classes today!
Jennie Creer-King
Owner & Artistic Director
Jennie Creer-King is the owner and artistic director of Central Utah Ballet Academy. She is an award-winning dancer, instructor, and choreographer. Among her awards include "Best School Award" by the Youth American Grand Prix, "Best of State" in Choreography and Youth Performing Group, and the Presidential Scholar's Teacher Recognition Award. Jennie has a Bachelor's Degree from the University of Utah School of Dance with an emphasis in Ballet Performance and a Master's Degree from the University of Utah School of Dance emphasis in teaching pedagogy and choreography.
You may also be interested in...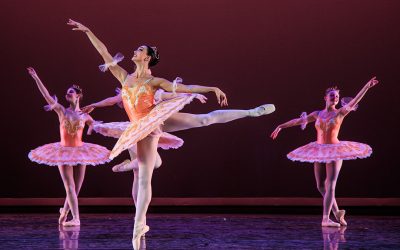 Introduction The journey from the studio to college dance programs is a transformative experience for young dancers, marking the beginning of a new chapter in their pursuit of artistry. Central Utah Ballet (CUB) stands as a beacon of excellence in dance education,...