This is one of the questions we get asked most from parents of new students. What is the best age to start ballet? The answer depends on your goals.
For instance, if your goal is to become a professional dancer, then the earlier the start, the better. This is because even young pre-ballet classes can help develop a foundation of skills and discipline that will strengthen their abilities later on. However, if your goal is to provide a positive, confidence-boosting activity for your child, then there is no right or wrong age to start.
What is the Best Age to Start Ballet?
One of the best ages to start ballet is age 4 or 5. This is the best age to start ballet so you or your child can develop discipline, good technique, and a genuine passion for ballet. However, serious training in ballet often doesn't begin until ages 8-10, which is when the body has strengthened and can withstand more serious technique.
Starting ballet at age 4 or 5 can provide a strong foundation before more serious training begins at age 8. However, it isn't unheard of for professional ballerinas to begin training later in their childhood years.
Some professional dancers have started training in ballet as old as 11 or 13, such as Misty Copeland, who started at age 13. Many other dancers start "late" or well into adulthood simply for the pleasure of learning ballet–for which there is no "best" or "too late" of an age to start ballet.
What is the Best Age to Start Ballet if you Want to be a Professional Ballerina?
If your goal is to be a professional ballerina, the earlier you start, the better. This is because starting early will expose you to technique, discipline, and performance experience. This provides a base you can build upon in your subsequent years of training. If you start with the right instructor, it can also help ensure that you don't develop any bad technique that will have to be relearned later in life.
However, serious training for ballerinas typically doesn't start until 8 years old or older. This is because ballet training earlier than this age can be detrimental to lengthening bones and growing bodies. Think of early ballet as early preschool. It's not essential, but it can go a long way in introducing a child to school and providing some good building blocks for a better early educational experience.
The long answer to the question "When is the best age to start ballet?" is "it depends." For a motivated ballerina, starting ballet at age 8 or 9, or even as old as 10 or 11, can still lead to a successful professional ballet career. However, it requires dedicated study and an excellent ballet program. Students can expect as many as 8-16 hours of ballet classes per week as they progress in their training.
What is the Best Age to Start Ballet if You Want to Dance in College?
College ballet programs can be quite competitive. This is often the reason ballet instructors will tell you that it's better to start early if you plan to pursue these programs. Starting ballet between the ages of 5-8 can give you the best early training to have a jumpstart when more rigorous training begins between ages 8-10.
However, children older than age 8 can still have a good shot of dancing ballet in college or university ballet programs if they are well-motivated, dedicated, and are taking part in an excellent ballet program. Learn more about finding the right ballet program: What to Look for in a Ballet Instructor.
What Age is Too Old to Start Ballet?
There is no age that is too old to start ballet, as long as your goal is simply to dance and not to become a professional ballerina.
That said, starting ballet older than 18 can sometimes be more challenging. This is because it can often be difficult to find adult ballet classes in your area. However,  if there are no group adult ballet lessons available, then there are typically private ballet lessons available from great instructors. Another challenge older ballerinas face is having more difficulty with flexibility and stamina. Regardless, if the goal is to get a good workout and follow a new passion, then who cares as long as you're having fun!
Jennie Creer-King
Owner & Artistic Director
Jennie Creer-King is the owner and artistic director of Central Utah Ballet Academy. She is an award-winning dancer, instructor, and choreographer. Among her awards include "Best School Award" by the Youth American Grand Prix, "Best of State" in Choreography and Youth Performing Group, and the Presidential Scholar's Teacher Recognition Award. Jennie has a Bachelor's Degree from the University of Utah School of Dance with an emphasis in Ballet Performance and a Master's Degree from the University of Utah School of Dance emphasis in teaching pedagogy and choreography.
You may also be interested in...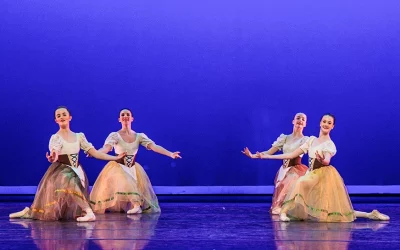 Central Utah Ballet is excited for the upcoming fall 2023 season, which will highlight Central Utah Ballet's award-winning ballet classes, including ballet for kids, teens, and pre-professional ballet training programs. In this new season, we are pleased to introduce...