Central Utah Ballet is pleased to announce that registration for our
ballet classes
is now open! Classes begin on September 2. At this time, we are offering a FREE month of classes during the month of September when you register for one of our programs. We are also waiving the $25 registration fee when you register before July 1.
To register, call Central Utah Ballet at (801) 602-3937 or send us a message by clicking "Contact Us."
Ballet Classes at Central Utah Ballet
Central Utah Ballet offers several ballet programs, including a toddler / preschool ballet program, children's ballet, junior and senior company, adult classes, and private or semi-private lessons.
Pre-Ballet – Toddler/Preschool Ballet Class
We love teaching toddlers and preschoolers ballet classes at Central Utah Ballet Academy. We offer pre-ballet classes for students 3-6 years old. These programs are once a week and teach ballet basics. They also help children foster a genuine passion for dance.
While many ballet studios put their least experienced teachers in charge of the toddler or preschool ballet programs, at Central Utah Ballet, your child will be taught by studio owner and director, Jennie Creer-King. Jennie is a highly-experienced, award-winning instructor. This is because Central Utah believes in establishing a great foundation and experience with ballet from the get-go. While your child may not decide to become a professional ballerina, what they learn in their ballet class will last them a lifetime!
Children's Ballet Program
Central Utah Ballet offers five levels of children's ballet classes. The first three levels are divided by age, while levels 4 and 5 are by audition only. These classes are a great way to progress your child's love and passion for ballet in a setting that best fits their age and experience. Our children's ballet classes are taught by exceptional ballet instructors. Each has years of experience not only in pre-professional and professional ballet, but also education and experience in teaching, pedagogy, choreography, and more.
Our children's ballet program has a classically based ballet curriculum that builds upon previous-learned concepts for a solid foundation on which your child may learn and grow. This is beneficial not only for teaching strong ballet technique, but also in helping your child learn essential skills that will help them learn and grow for the rest of their lives.
Pre-Professional Ballet Training Program
We also offer a pre-professional ballet trainee program that simulates a college or professional ballet experience. This program includes not only essential classical ballet technique, but also pointe, additional dance variations such as contemporary and modern, and lifelong learning opportunities, including nutrition and resume-building.
The pre-professional program is an excellent choice for advanced students who are seeking educational opportunities such as scholarships and college dance programs, as well as those who would like to pursue a career in dance. Most of our instructors have not only excelled in these opportunities themselves, but have also helped previous students achieve these goals.
Why Central Utah Ballet?
While Central Utah Ballet is a brand new ballet academy, it is not new in its team's experience or the success they bring. Owner and director, Jennie Creer-King, is well-known and highly sought after as an instructor and dance education director/principal in the state of Utah. She has assimilated an exceptional team of dance instructors who are well-known in the state as well as across the country.
Beyond having some of the best ballet instructors in the state, Central Utah Ballet also has some of the best ballet curriculum available. The curriculum is developed by Jennie, who has multiple years of experience, awards, and success in the dance industry.
Jennie Creer-King
Owner & Artistic Director
Jennie Creer-King is the owner and artistic director of Central Utah Ballet Academy. She is an award-winning dancer, instructor, and choreographer. Among her awards include "Best School Award" by the Youth American Grand Prix, "Best of State" in Choreography and Youth Performing Group, and the Presidential Scholar's Teacher Recognition Award. Jennie has a Bachelor's Degree from the University of Utah School of Dance with an emphasis in Ballet Performance and a Master's Degree from the University of Utah School of Dance emphasis in teaching pedagogy and choreography.
You may also be interested in...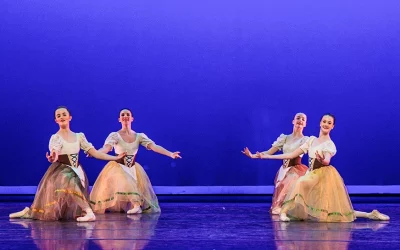 Central Utah Ballet is excited for the upcoming fall 2023 season, which will highlight Central Utah Ballet's award-winning ballet classes, including ballet for kids, teens, and pre-professional ballet training programs. In this new season, we are pleased to introduce...