The COVID-19 pandemic has hit us hard. It has been so hard to see our wonderful children and students cooped up in quarantine. We also know it's been a difficult time for many adults. At Central Utah Ballet, we wanted to send our care and love to our students and their families by offering one free month of dance classes during the month of September.
One Free Month of Ballet Classes in Lehi, Utah
Central Utah Ballet is offering one free month of ballet classes during the month of September. Registration is now open, so we encourage families to take a look at our ballet classes! If you register before July 1, we will waive the $25 registration fee. You may register by calling Central Utah Ballet or sending us a message through our website.
We are so grateful to our amazing Utah community and have already had a massive interest in our ballet classes. Many people in the Lehi and Utah County areas know and recognize our award-winning owner and director, Jennie Creer-King, and are excited to be a part of her studio. To thank everyone for the support and to offer support of her own during these uncertain times, Jennie decided to offer this free month of classes during September.
How to Register for Classes
If you are interested in registering for ballet classes at Central Utah Ballet, let us know! You may call Central Utah Ballet at the phone number at the top of the screen, or you may fill out the contact form on our website, and we will reach out shortly.
There is a $25 registration fee that is waived if you register before July 1.
When you're filling out the form, be sure to tell us your child's age and which program you are interested as well as which days/times you'd like to register for, if applicable.
About Central Utah Ballet's Classes
Central Utah Ballet offers a range of classes for children from 3 years old to 18. We also offer adult dance classes for those adults who want to brush up on their ballet skills and get in a good workout. Each of our programs is classically based and includes ballet pedagogy that is developmentally appropriate for each age and level. Below are descriptions of some of our classes:
Why Choose Central Utah Ballet?
Central Utah Ballet is run by one of the most decorated ballet instructors and directors in Utah. Not only has Jennie Creer-King owned and directed a number of successful, well-known dance studios, but she has also collected an impressive faculty of ballet instructors for her faculty. When you choose Central Utah Ballet for your child's education, your child is building a solid base of classical ballet foundations and techniques.
Our programs are perfect for students who are looking to compete or have on-stage performances, are preparing for college scholarships or opportunities, or who aspire to make a career out of professional ballet. They are also a wonderful starting point for children whose interest in ballet is still developing. By choosing a school like Central Utah Ballet that has incredible, experienced ballet instructors teaching even the toddler and preschool ballet classes, you know your child will be developing a foundation and learning mindset that will set a wonderful standard for their future extracurricular pursuits–even if those don't happen to be ballet in the future.
Get Started
Learn more about Central Utah Ballet by exploring our classes below, or feel free to reach out and ask us a question about our studio or classes.
Jennie Creer-King
Owner & Artistic Director
Jennie Creer-King is the owner and artistic director of Central Utah Ballet Academy. She is an award-winning dancer, instructor, and choreographer. Among her awards include "Best School Award" by the Youth American Grand Prix, "Best of State" in Choreography and Youth Performing Group, and the Presidential Scholar's Teacher Recognition Award. Jennie has a Bachelor's Degree from the University of Utah School of Dance with an emphasis in Ballet Performance and a Master's Degree from the University of Utah School of Dance emphasis in teaching pedagogy and choreography.
You may also be interested in...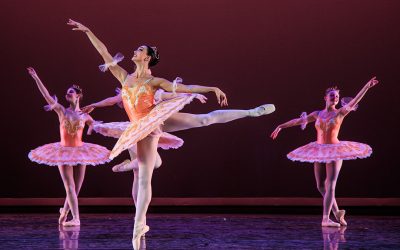 Introduction The journey from the studio to college dance programs is a transformative experience for young dancers, marking the beginning of a new chapter in their pursuit of artistry. Central Utah Ballet (CUB) stands as a beacon of excellence in dance education,...