Central Utah Ballet is so excited to host our grand opening celebration this August 29 from 10 a.m. to noon, and everyone is invited! This is a great opportunity for potential and current ballet students to tour our brand-new facility and meet our amazing
ballet instructors
.
Our construction team has notified us that the buildout of our new studio will be finished early August, and we are so excited for everyone to see it when it is complete. It will be beautiful! Get ready for spacious, bright studios, and a brand-new dance floor.
The grand opening party will begin with a ribbon-cutting ceremony with the Lehi Chamber of Commerce. We are so happy to welcome Dexonna Talbot and Lindsey Larsen, the reigning Miss Utah and Miss Lehi, to our ribbon-cutting ceremony. Both of these extraordinary women are former and current ballet students of our very own Jennie Creer-King.
In addition to the ribbon cutting, we are excited to welcome all attendees to tour our brand-new ballet studio, meet the amazing faculty of Central Utah Ballet, and learn more about the ballet classes and programs we are offering.
We know there is a lot of uncertainty in the world today due to the Coronavirus, but we are glad to be able to offer a place where ballerinas can continue to learn and practice their art. We know that for many of our aspiring dancers, having a ballet studio to dance with other dancers, have opportunities for performances, and learn in-person with phenomenal ballet instructors.
During September, Central Utah Ballet will offer a free month of classes. We are honored to be able to offer these classes to amazing students in our new studio and are glad for the opportunity to support our community by offering free classes during these uncertain times.
Learn more about this event and RSVP on our Facebook page: https://www.facebook.com/events/545851589371588/
We look forward to seeing you there! The event will be at our new studio at 132 S. 130 E. Street in Lehi.
Jennie Creer-King
Owner & Artistic Director
Jennie Creer-King is the owner and artistic director of Central Utah Ballet Academy. She is an award-winning dancer, instructor, and choreographer. Among her awards include "Best School Award" by the Youth American Grand Prix, "Best of State" in Choreography and Youth Performing Group, and the Presidential Scholar's Teacher Recognition Award. Jennie has a Bachelor's Degree from the University of Utah School of Dance with an emphasis in Ballet Performance and a Master's Degree from the University of Utah School of Dance emphasis in teaching pedagogy and choreography.
You may also be interested in...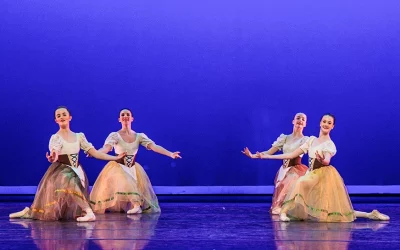 Central Utah Ballet is excited for the upcoming fall 2023 season, which will highlight Central Utah Ballet's award-winning ballet classes, including ballet for kids, teens, and pre-professional ballet training programs. In this new season, we are pleased to introduce...