Private Ballet Lessons at Central Utah Ballet
Schedule one-time or regular private or semi-private ballet lessons with some of the best ballet instructors in Utah. Lessons take place at our beautiful new ballet studio in Lehi, Utah. Customize curriculum to specifically focus on your challenges or goals.
Request Information
Private Ballet Lessons with Central Utah Ballet Academy
Central Utah Ballet Academy in Utah County offers private ballet lessons for all ages and abilities. These lessons are a great way to get personalized one-on-one instruction to:
Advance overall technical skills

Overcome challenges

Master specific or techniques

Break through plateaus

Polish choreography

Prepare for competitions or auditions
Take private lessons with our award-winning director Jennie Creer-King or request a private lesson with one of our amazing ballet instructors. Private lessons are $50/hour and can be scheduled on a one-off or regular basis.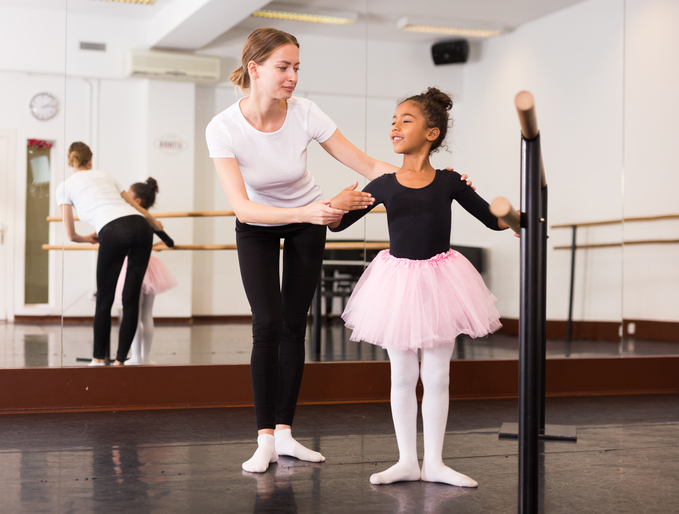 Why Take Private Ballet Lessons?
We recommend all of our serious ballet students take group classes and join a ballet company to advance their skills as an individual dancer as well as their skills of dancing in a company. This will give the dancer the greatest range of experience while getting to learn from a wider selection of some of the best ballet instructors in Utah County. 
However, private ballet lessons are an excellent supplement to group and company classes. This is because private lessons can help a student practice and perfect specific techniques or choreography. 
While our teachers do an excellent job of giving each of our students individual direction during class, private classes give the student a full 60-minute session of dedicated one-on-one attention.
FAQs About Private Ballet Classes Offered by Central Utah
Each of our private ballet lessons is 60 minutes long and costs $50/hour. These classes can be scheduled on a one-off or weekly/bi-weekly basis depending on your needs. Private classes are flexible and can be scheduled to work best with your specific needs.
How much do private ballet lessons cost?
Our private ballet lessons are $50/hour.
We also offer semi-private ballet lessons where you can share your private class with another dancer.
Do I have to be a student at Central Utah Ballet to take private classes?
No! Anyone may schedule private lessons with us.
Are private lessons reserved for children 18 years and younger?
No! We encourage students of all ages and abilities to take private lessons with us.
Do you only offer private lessons for ballet or do you offer other styles as well?
We primarily offer private ballet lessons but offer supplemental dance styles as well including contemporary, modern, and character.
Can you help me with specific choreography?
Yes! We can help you choreograph pieces for competitions, shows, or auditions. We can also help teach you how to choreograph or help you practice specific choreography.
About our Instructors
Central Utah Ballet offers an elite lineup of some of the best ballet instructors in Utah. Many of our students take private ballet lessons with our Director, the renowned and highly experienced Jennie Creer-King. However, many of our other instructors are available for private dance instruction as well.
Start Now
If you're not sure whether private lessons are right for you, we are happy to help! Call or visit Central Utah Ballet today.